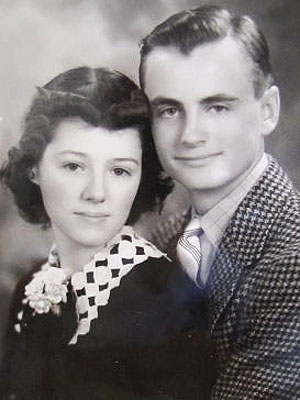 Courtesy Grunion Gazettes
The Browns moved to Long Beach in 1963, where Helen was a housewife with a knack for buying and selling area properties while Les owned a photography studio, serving as a photographer for the Navy.
Despite being born the same day, the Browns were two different people, according to their sons, who said Mom was strict while Dad was more laid-back. Like all couples, their children said they had issues to work through during their years together but that the two constantly reaffirmed their love, a special bond that was always on display.
Zach Henderson, owner of the Ma N'Pa Grocery, a corner store near the Brown's home in Long Beach, said he saw the couple almost daily. 
"About a year ago, [Helen] had her hand on his face and they were cheek to cheek," Henderson told
ABC News
. "She said, 'Isn't he the most handsome man you've ever seen?' "
At the time of their deaths, Les was suffering from Parkinson's and Helen had stomach cancer, according to the
Press-Telegram
.
The Brown's youngest son, Daniel, summed up his parents' life and death.
"My mom often said she didn't want to see my father die, and he didn't want to live without her."